The artists of Tholpavakoothu
Thol pava Koothu is preserved as a family traditions by the pulavars. The name pulavar itself is a title bestowed on such a person who has gone through an intensive training in puppetry and puppet making that includes an in-depth knowledge of Tamil literature and especially the epic. In order to promote this art form, Krishnan kutty pulavar Tholpavakoothu and puppet centre was established by the renowned Tholpavakoothu artiste late Guru Shri Krishnan kutty pulavar at Koonathara.
Pulavar- learned scholar-is the respectful name given to the masters of a puppet troupe by the villagers, more than an artiste the pulavar , as learned man has always been an adviser and guide to the villagers who often brought their problems to him,Tambi pulavar,Ila pulavar,Muthappa pulavar, lakshmana pulavar,Ravuni nair,Gopala paniker, sankunni pulavar,ramankutty pulavar, Sankaran narayanan,Ramsawmy pulavar,ponnusawamy pulavar,prabakara pulavar,ponnumani pulaar,thakamani pulavar,are the ancestors of the famous Koonathara family which goes back four generations in Tholpavakoothu.
There are different sangam performed Tolpava Koothu in kerala now only Kavalapara sangam was established and RamChandra pulavar lead this troupe with efficient and proper way to promote these art forms in India and aboard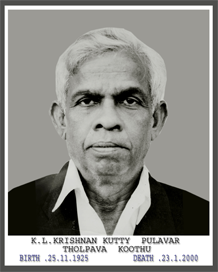 1) kavalapara sangam
2) pallapuram sangam
3) mathur sangam
4) pudussery sangam
5) karipode sangam
6) kollenkode sangam
But the only the Family now in kerala perform the tholpavakoothu under the Kavalapara sangam with K.K.Ramachandra pulavar.
The troupe at Koonathara was founded generations back and revived by the renowned and award winning Tolpava Koothu artist late Guru Krishnan Kutty Pulavar and is now the only surviving puppetry community in Kerala to preserve the art form and train new artists in the traditional repertoire as well as in new productions.
The leader of the present troupe is K.K. Ramachandra Pulavar, eldest son of the late Guru Krishnan Kutty Pulavar .