KRISHNAN KUTTY PULAVAR MEMMORIAL THOLPAVAKOOTHU PUPPET CENTER
Krishnan kutty pulavar memorial Tholpavakoothu & puppet centre is formed in memory of great guru shri: K.L.Krishnan kutty pulavar, before it is known as Tholpavakoothu & puppet centre. Guru Krishna kutty pulavar was a well known activist and puppeteer in the field of puppetry play in kerala. Now ,keeping the traditional style of narrations the centre has been done many stage performance including foriegn nations as well.The lead puppeteer RAMACHANDRA PULAVAR who is in cotrol of centre has got many awards and recognizations..
Achievements & Recognitions
There are many awards and achivements had won by K.K.Ramachandra pulavar(Current Director of Puppet centre) and his son K.Rajeev pulavar.Through the puppet centre they were able to popularize the art form to the common people and took it into outside of temples.From 1979 onwards the troupe of puppet centre have been visiting aboard and other partof India with this art form.The great dedication towards "Tholpavakoothu" helped them to achive many awrds and recognization from India as well as from abroad also…
Great People Behind The Screen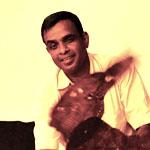 K.K.Ramachandra pulavar was born on 25-05-1960 to late Guru Shri: K.L.Krishnan kutty pulavar and Gomathy ammal. He was born to a traditional family with a rich historical background, he was studied Tholpavakoothu by his great guru/father from the age of six. He soon achieves all the aspects of Tholpavakoothu within the period of childhood. While he was going with his father he follows the tradional style pf puppet performance even now also. He follow the 8th generation from the followers of guru were endowed the talented skills in this artform Chinathambi pulavar, Ela pulavar, Appanna pulavar, Lakshmana pulavar, Krishnan kutty pulavar. Guru Krishnan kutty pulavar took this artform from the temple primes to outside. It can easily grow up in kerala and all around the world of puppetry. Ramachandra pulavar are also engaged in this artform with hi new contributions and his own great effort to promote this artform in kerala ,ever year from the month of December to June he was performed in 40 temples in 7,14,21,41,71 days and also he performed 500 staged every years out the temple primes in kerala –India ,and abroad.

K.Rajeev pulavar
K.Rajeev pulavar is from the younger generation who holds the light of "tholpavakoothu" in hand,he is the son of K.K.Ramachandra pulavar .He have already achived many milestone in this field,he won Ustad Bismillahakhan Yuva Puraskara National Award  from Sangeet natak academy  New Delhi and many awards including "Young talented artiste award Kerala Sangeet Natak academy".He had participated in the world Musiq & shadow puppet festival conducted in Thailand recently.Rajeev is one of the initiater who begun to introduce contemporary and secular themes to appeal to the youth,and Performances are no longer confined only to temples but are also held in secular venues such as colleges and other demanding occations.
Achievements & Recognitions of K.K.Ramachandra pulavar
Life time achievement and Excellence award from madras craft foundation "Dashina chithra Virdhu".
Junior & senior fellowship holder from ministry of culture Govt of India.
Scholarship from department from culture.
Awards from foreign countries for performance.
Participated in the international film festivals in kerala
.
Balakandam & Aryuanakandam in English translation
.
Publishes a book "shadow puppet in kerala" by NFSC -2008.
"Tholpavakoothu"published by kerala Basha institute.
Achievements & Recognitions of K.Rajeev pulavar
Apr 1995 Development commissioner (handicraft Government of India)
.
Jan 2000 Vanisree Natan kala Kendram
.
APR 2004 Natya darsana puppet theatre workshop
.
OCT 2004 Ottapallam district work experience fair
NOV 2004 The XXIV Kerala schools state level work experience fair 2004-05
JUN 2005 National folklore support centre, Chennai
.
DEC 2006 Palakkad district panchayath golden celebration of Kerala
AUG 2007 Young talented artiste award south zone cultural centre
.
AUG 2007 the international arts & craft fair Jerusalem
.
DEC 2010 Young talented artiste award Kerala Sangeet Natak academy
.
FEB 2011 world Musiq & shadow puppet festival Thailand
Puppet Making & Performance
All the puppets using for the play are purely handmade,it is made up from deer skin.The Puppet centre are famous for creating and coloring puppets.
K.K.Ramachandra pulavar have well experienced hand on making puppets ,he is creating almost 300 puppets in a year!,and also performing pupperty play,The annual performances in about 45 temples during the temple festivals seasons from December to June
has performed by him.More than this he used to play in various stage performance as well(almost 500 stages).