Know the rituals of tholpavakoothu
Tholpavakoothu is a form of shadow puppetry that is practiced in Kerala, India. It is performed using leather puppets as a ritual dedicated to Bhadrakali and is performed in Devi temples in specially built theatres called koothumadams.
Tholpava Koothu performed every year in the temples of Bhadara kali is regards a part of the ritualistic worship of the goddess. Now ,there are 85 temples performing Tolpava Koothu in kerala under Shri. K.K.Ramachandra pulavar.
In earlier "tholpavakoothu" was performed almost all the devi temple in kerala but like many traditional art forms, has been facing the threat of extinction due to the arrival of alternate platforms of entertainment such as television and cinema and due to changing cultural values. The audience for these shows have dwindled even in rural Kerala. To cope up with these social changes, the duration of many performances have been drastically reduced. Thematically, puppeteers have begun to introduce contemporary and secular themes to appeal to the youth.
How Tholpavakoothu formed
Tholpavakoothu is a compound word of three Malayalam terms, thol, meaning leather, pava, meaning doll, and koothu, meaning the play.It is believed to have originated in the ninth century AD and uses Kamba Ramayana as its basic text. The performance language uses Tamil, Sanskrit and Malayalam words. Like Mudiyettu and Patayani, Tholpavakoothu is also an art form that is dedicated to Bhadrakali. According to legend, Tholpavakoothu was performed at the request of Bhadrakali who could not witness Ravana's killing as she was fighting the demon Darika. Thus when it is performed in temples, an idol of the Goddess is usually placed on a pedestal in front of the arena where it is staged.
More on rituals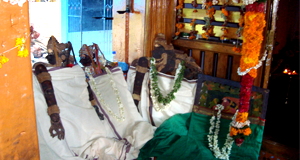 The annual utsava (festival) of the temples in middle of kerala temple is called Pooram, celebrated in the month of Makaram (December) to Menam (April). Pooram starts on the first of the month. It is inguarted with the hosting of the temple flag and special poojas. The hosting the flag is a religious ceremony and is called Koti-kayaruka (hosting the flag).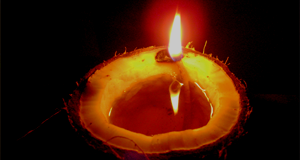 Some kind of rituals are going under the temple premises like chenda melam, poojas etc
After that the vellichapadu (oracle) of the temples comes out after his ceremonial bath, wearing a red silk scarf around his waist an a string of silver bells around the ankles. Holding a sword in his hand he dances in front of the altar. Then he goes around the temple thrice and afterwards comes to Koothu madam (puppet play hose) and tells the mada –pulavar (chief puppeteer) and the temple authorities: I am pleased with you. "Show the Ramayana story without fault… I shall stand by you and render you all help."